Summer Bucket List for Families
Tomorrow is the beginning of June and, for most people, that means that the season for sun, water, backyard BBQ's, and so much more is officially underway.  If you live someplace that seems to have a never-ending winter, you can bet that summer is the time to enjoy as many outdoor activities as you can possibly handle in a 24 hour period.  With that being said, having a summer bucket list made out of the things you REALLY want to fit in is a great way to ensure that you are being intentional with the small amount of time you get in the sunshine.
For our family, I like to take the less is more attitude when making a list of things that I would love to make happen.  With younger kids, it is just easier that way and cuts back on a LOT of tears, temper tantrums, and mommy wanting to lose her shit.  Therefore, the list I have created for this summer is pretty small but can be embellished with a few add on items if things happen to go well with certain activities.  If not….oh well, it's still a memory in the books and something we will look back on in a few years and have a good laugh.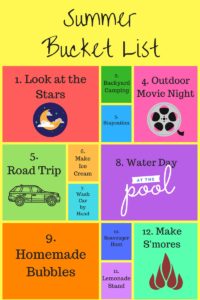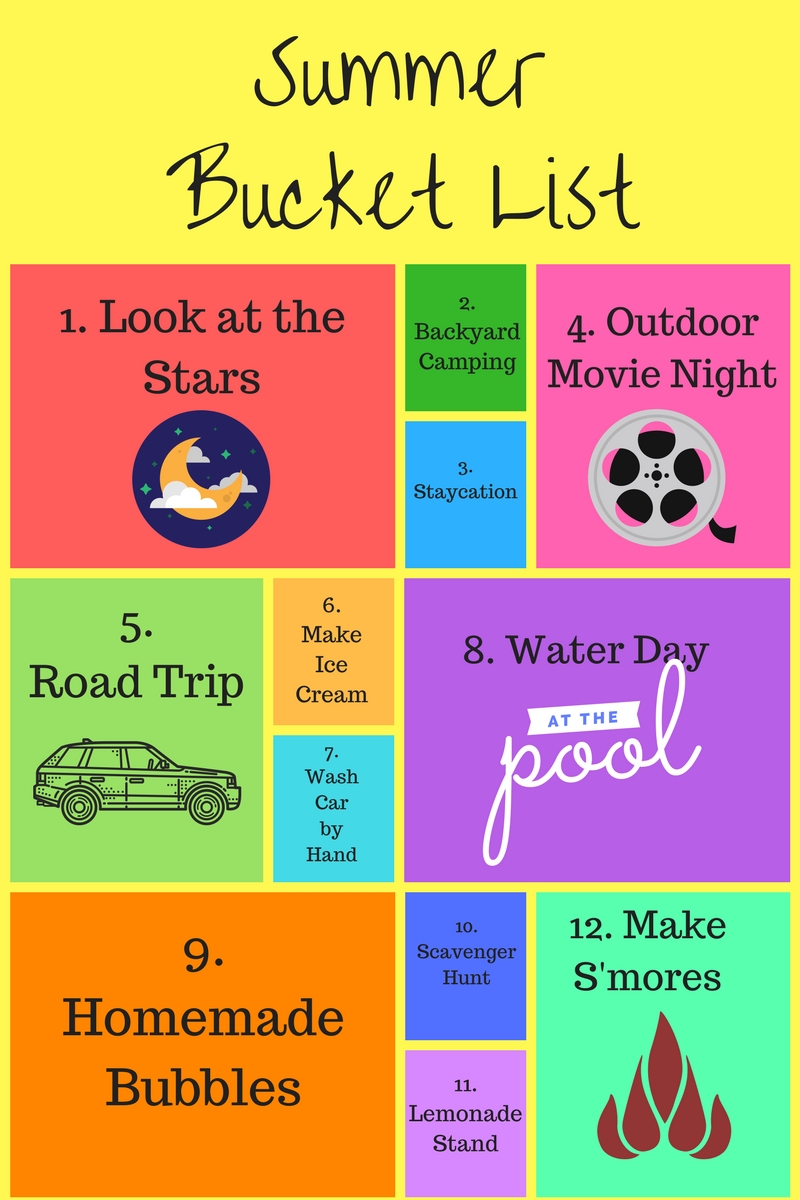 There you have it!  As you can see, I limited myself to 12 items that I think we will all enjoy, which means we should be able to do one of these per week.  Also, I made some of them pretty generic as I've been known in the past to be too specific about something and then have a force out of my control ruin the plan and end up with disappointed kids and adults.  Pretty much the opposite of what bucket lists are trying to accomplish.
With that being said, obviously there are a ton of variations that you can take on these items.  For now, these are the things I am thinking of for the bucket list.
Star-Gaze: One of my kids favorite summer activities is camping. On one of our trips this summer, I would love to lay a few blankets out and show them a few of the constellations that I remember from my elementary school days.  

Sleep In Backyard: I don't think I've ever slept in any of my backyards, so this will be a new experience for the majority of the family.  I'm thinking that taking a tent outside and seeing how long we last is going to be fun and I love the fact that our beds aren't far away if it ends up in disaster!

Have a Stay-cation: We are so guilty of not taking advantage of the beautiful state that is Montana! It's pretty sad how much there is to do and see around us and we don't take any of it in with the hectic pace that our life has been lately. Therefore, I would like to slow down a little at some point this summer and be a tourist in our own state.  There may be a future blog post in the works for this one…..

Outdoor Movies: At home, in the park, at the drive-in, while camping, or anywhere else.  The possibilities for this are endless and it is such a fun way to enjoy a movie. Make dinner, grab some popcorn, and enjoy a night under the stars with one of your favorite flicks playing!

Road Trip: This will always be on my summer bucket lists! I love the feeling of getting in the car with my little family and driving. It's not about the destination…it's the adventure along the way!

Homemade Ice Cream: I'm really excited to do this with my kids this summer because they are ice cream fanatics! Right now, I'm thinking about getting one of those roll around balls and making a simple vanilla version to see how it goes.  However, if anyone has any great recipes and/or methods, I am all ears!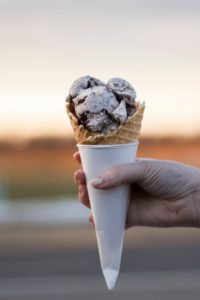 Wash Car By Hand: I love a nice clean car and automatic car washes are so handy when time is limited. But, there is nothing better on a hot summer day than getting out in the driveway and having fun while getting the car (mostly) clean while having an amazing water fight!

Water Day: Once again…lots of options! Pool, water balloons, squirt guns, the list goes on and on.  Plus…it wears the kids out and mom is guaranteed an early bed time 🙂

Homemade bubbles: So….there is a double reason for this being on the list. Little man is absolutely obsessed with blowing bubbles right now, but he isn't exactly the greatest at keeping it in the little bottle.  Making our own bubbles will be a fun activity for the kids and it will save a little money for mom and dad!

Do a Scavenger Hunt: If I'm being honest, I'm not exactly sure how this one will work out. Hopefully I can come up with one that will be fun for the kids and keep their attention throughout the activity.  Keep your fingers crossed for me and let me know if you have any suggestions and/or ideas.

Lemonade Stand: We tried this one last year and little lady wasn't all that interested in staying at her post. However, we did try it during a garage sale and all her old toys were sitting in view.  This year, I'm hoping her and little man can team up together and enjoy some good times while making a little money.

Make S'mores: Another item that will always be on my summer must-do list. Sitting around a fire, having great laughs with friends, and making dessert is always a great way to spend a night.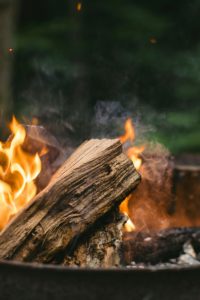 What are you most excited about this summer? For me, one of the biggest events happening is coming up this weekend.  A girl that I babysat throughout my teens and consider a little sister will graduate from high school.  I'm preparing myself for a flood of tears leaving my eyes as I watch her enter the next phase in life.  Looking forward to watching how far she will go and all the things she will accomplish.