The Day that Changed My Parenting Game
In the words of Usher…here is my confession and what I had to realize to change my parenting game.  I have a problem letting go of responsibility over tasks that I consider "mine", especially when I have a vision in my mind of what the finished product should look like.  This can be considered either a very good trait or a very bad trait, depending on who you ask and/or what the task at hand might be, especially when it comes to parenting small children.  The good part about having this compulsion to see over everything and do it all is the pride and accomplishment that comes with the finished product.  It's the knowledge that I can take on anything and have the picture in my head turn into a real life object.  For me, it's not about having it come out perfect.  It's about the fact that I did it and I put the effort in.  I feel like if I love something enough and have passion about it, that I should control everything over it.
However, the negative sides of this trait, which have become more and more evident to me as of late, far outweigh the good sides at this stage in my life.  To be completely honest, having this need to do it all was costing me the very thing that I treasure most in life…the simple moments that turn into lasting memories.  Luckily, I had the opportunity a few months ago to see this negative side and seize the chance to turn it around before I missed some amazing moments.  
It was the night before little man's third birthday and I was attempting to bake the cake for his party that was coming up in a couple of days. He and little lady were in the living room watching some cartoons and their dad was out of town on business till the next evening.  The cake and cupcakes came out burnt and sticking to the pans. It was a disaster that, unfortunately, had happened more than once.  I was frustrated and at the end of my rope.  I had a decision to make.  Either I could scrap the whole thing and try to find a suitable cake at the store the next day or spend the whole night in the kitchen with no guarantees that the next batch would work.  If I took the second option, I would likely be exhausted and grumpy on little man's actual birthday.  Not good, especially since I was flying solo in the parenting department that day.
Seems like a pretty easy decision when it is laid out like that.  BUT, buying a cake made me feel like a failure in my mom duties, given the fact that I had always been the one to make my children's cakes.  It made me feel like the love I have for my son wasn't shining through enough.  Silly….yes.  Real…..you bet.  And no, it wasn't to show off my skills or to brag about the fact that I had done it all myself.  I genuinely enjoyed doing it all and putting that much effort into my child's party. It was a labor of love and I was happy to do it.  If I stopped doing it now, I felt like I was becoming lazy in the effort that I made.
So there I was, standing in the kitchen, wondering what I was going to do next. Then, I had a little hand come in and ask me if I could take a second to watch their show with them.  And just like that, my parenting game changed.  What I made by hand or did all by myself no longer mattered to me because I realized that it really does not matter to them.  The only thing they care about is having a mom that is present and happy in the moment.
So the decision was made and I found a cake that worked just fine with his Cars theme the next day.  And that one decision has opened my eyes to a whole lot when it comes to what I do myself and what I have someone do for me.  The truth is that making cakes for events really stresses me out.  I would really love to have the ability to create the amazing masterpieces that we all see on Pinterest or Food Network, but I just don't have the natural ability to do so.  Don't get me wrong, some of the cakes that I have done in the past have made me extremely happy in the end, but getting them done usually involved a lot of tears and frustration.  It's just not worth it considering there are people in the world that do have the ability and love for it that makes it come natural.  Why not let them do what they excel at while I do what I really love and truly enjoy?  Also, letting some of this go really helps me in my own journey of creativity and self care because it lets me be honest with myself on where my strengths lie and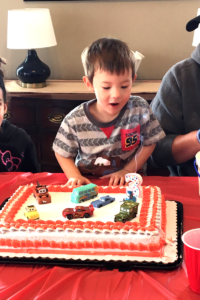 Parenting is hard work and a completely different experience for every single person.  I cannot tell you what you should or should not do and what you should take on by yourself.  That is a personal decision that only you can make and I know that if anyone tried to tell me, my stubborn streak would come out and I wouldn't have learned this about myself until way later in life.  The only advice I can give is that raising children is not a solo task.  They say it takes a village, and that is very true in every sense of the word.
What are the things that you absolutely love to do for your kids and what can you leave to others? I would love to hear about it in the comments!